Container filling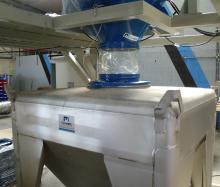 Filling head with tight connexion
---
Characteristics
The IBC Containers® filling head enables a completely tight connection between a hopper and a container to realize a gravity transfer of your materials.
The filling head can be manually positioned or automatically lowered on the container aperture by two pneumatic cylinders. The flexible connection cable is expanding and the head moves down to the container. This filling head is made up with an inflatable seal which closes the top lid to avoid any dust emanation during the filling process.
Need more information about our filling system for containers? Let's see our pictures gallery below or contact us through our form.
Specifications
• Balancing during filling and de-dusting process
• Sealing with inflatable seal to avoid any dust emanation
• Automatic connection (optional)
• Ergonomic control box