Test center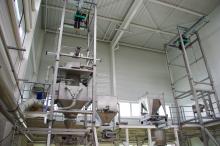 Our test center is continuously growing up. It is equipped by the last industrial equipment for the powders handling and bulk products.
---
Characteristics
The IBC Containers® test center was created to conduct testing programs at industrial scale. The main goal of the construction of this plant, completely dedicated to powders, is to select with our customers the best process solution that will meet theirs constraints and requirements.
Support and success of your industrial projects are a priority for our company. To provide an optimal solution in terms of quality of products and services, we have developed a "turnkey" system for our customers. IBC Containers® controls the overall project, from the order to the operational setting up of your equipment. To go further ahead in our quality program, we have built this test plant, to help you to choose the most convenient industrial process.
Come to visit our Test Centre on a industrial scale!
•
Realization of test conveying (vacuum pneumatic conveying, pressure and dense phase, Archimedes' screw…)
•
Containers, manual, semi-automatic and automatic big bags discharging system
•
Dosing with rotary valve, screw conveying, screw dosing, valve with analog control unit
•
Perform mixing, lump breaking, granulation tests…
•
Supervision and control system for monitoring weighing management
•
Characterization of your powders (particle size, density, flow angle…)
You can call one of our sales engineers to schedule a visit on our site in Brécé: +33(0) 2 99 86 06 22