Container mixing system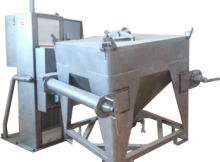 Volume capacity: 200 to 1 000 liters
4 to 10 rotations per minute
---
Characteristics
The IBC mixing equipment provides fast and easy mixing of your powders directly into containers (IBCs) of our range. The mixings is homogeneous, without product loss while conserving the qualities of your product.
The container mixing system operating
Mixing system:
Once the container is loaded in the mixing cage, a detector checks the locking of the installation and the closing of the conic valve. The container mixing operates through a continuous rotation on its central axis. Substances are mixed gradually to achieve a homogeneous mass. Time, rotation speed, fast startup, deceleration and final stop can be set up by the PLC and the touch screen. The type of mixture can also be determined from pre-programmed cycles.
Leveling of the product:
At the end of the mixing cycle, the container rotates from the right to the left beyond the predetermined angle. This rotation angle is adjusted according to the repose angle of the product and allows to have a perfectly balanced container at the end of the cycle.
Security:
The equipment in rotation is dangerous. In order to offset this risk, it is important to implement an immaterial barrier or to create a protected area to prevent access to the operator when the station is operating.
Need more information about our solutions blending station?
Visit our gallery below or contact us through our
form.
Specifications
| STANDARD FEATURES | OPTIONS |
| --- | --- |
| Clamping with gripper on the lower base | Clamping with double gripper on the top of the container and on the lower base |
| Slowed speed at start and stop | Variable mixing speed, controlled according to predefined recipes |
| PLC controls | Remote control panel |
| Electronic brake on mixer engine | Stop of the mixing during process for additions of ingredients |
| Mils steel manufacturing | Stainless steel manufacturing |
The advantages of our IBC Containers® mixing station:
• Procurement of a high uniformity of your liquids and powdered products
• Variable mixing speed
• Stainless steel surface for pharmaceutical industries
• Ergonomic control panel
• Container locking for security