Case study 2 - Repackaging of virgin product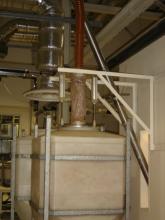 Processed powder
Objectives
Sieving of paprika powder for repackaging into containers.
IBC Containers® industrial equipments
Container unloading
Centrifugal sifter
Container filling
The full container is positioned, with an electric hoist, on the upper part of the emptying station. It is fitted with a conical discharge valve in order to ensure a controlled dosage for feeding the sifter.
The measured powder is conveyed inside the cylindric sieve via a conveying screw. The powder is sprayed through the mesh of the sieve destroying lumps and agglomerates. Shredded material are transported towards the output of the screen.
The empty container, ready to be filled, is positioned on the lower level, on the lower part of the structure.
Parts in contact with the product are manufactured with suitable materialsand are maintained to prevent the contamination of the spices.
Results