Container discharging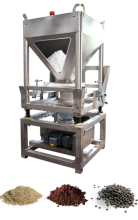 Automatic or manual discharging system
---
Characteristics
| | |
| --- | --- |
| | |
| Step 1: Container loading on platform via the forklift | Step 2 : The container is placed on the discharge station |
| | |
| Step 3 : Evacuation of the forklift to free the area | Step 4 : The operator opens the container's butterfly valve in order to trigger the emptying process |
The container discharging system is designed to empty and transfer your bulk products towards your production lines.
Automatic version:
The discharging station has a pneumatic cylinder ensuring the container opening and closing. The implementation of a flow regulator inside the control panel makes it easy to manage the opening and closing speed.
The cylinder is fitted with electromagnetic sensors (option) ensuring the valve axis position and the connection with the container.
Once the container is positioned, the action onto the pneumatic cylinder ensures the valve opening by a mechanical system.
At the butterfly valve output, a seal fixed to the structure ensures a tight connection.
To ensure the end of the unloading operation by optimizing the powders flow, a vibrating structure can be implemented as an option.
Manual version:
The container discharging station is fitted with centering devices to optimize the positioning. The connection to the container is made with a tulip seal.
The container loading on the structure is done either by a forklift or by an electric hoist.
It is the operator who has to manually open the drain valve of the container.
Note: If the product does not generate dust, the discharging station is not necessary. The emptying system is performed "open skies" (example of product: plastic granules).
The container can be handled by hoist. If so, a handling cross is necessary.
Need more information about our container discharging solutions? Visit our gallery below or contact us through our
form
.
Specifications
Several options are available on this model:
• Vibrating station
• Dust collection
• Automatic opening of the container
• Handling by forklift or pallet truck
• Handling crosse when lifting with hoist
• Continuous or controlled dosing